We'll explain the title as we go.
A few months back, our friend Lisa P. indicated that she wanted to fly pretty but she needed a destination and suggested she pay me a visit. I was very happy to accommodate her wishes and was anxious to actually meet her in the flesh. She set up a few days for us in nearby Sandusky (Ohio). She flew out in the late afternoon. I picked her up, we grabbed some food and headed to our condo. We ate and chatted and had a lovely evening. There are not photos because Kandi didn't show up until the next day.
September 21, 2022 we set about a busy day.
The morning was leisurely. I got my workout in. The weather was into the 80's so we decided to spend the morning at the beach. Because we were there off-season, actually finding a walkable beach wasn't as easy as it may have been otherwise.
We first stopped at what was a very small beach and walked the pier to view a lighthouse. We had a handful of interactions with passers-by. On our return from the lighthouse, an elderly gentleman was seated at a bench with his little dog (don't ask me the breed). We smiled at him, not expecting much more than our being polite, but he asked us if we wanted to meet Lola.
Go figure. Lisa and I walk by someone we would not have expected to engage us in conversation and his dog is named Lola (la, la, la, la, Lola). Sweet man and a cute little, if not an old, dog.
Here is my version of the beach morning.
We then went back, got cleaned up and went out to dinner. We found a great place on the beach in Port Clinton. I got to wear a sundress I recently acquired and loved it!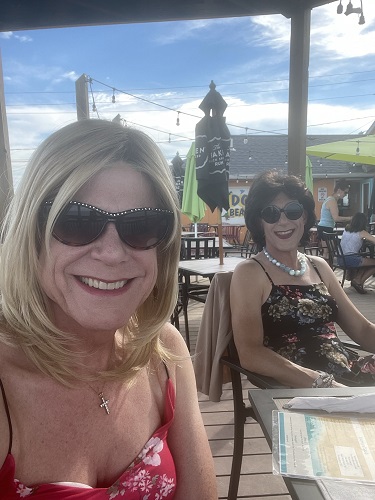 After dinner, we went to another lighthouse. We took quite a few pictures. While standing there alternating taking photos of each other a number of folks walked past. An older gentleman, wearing a Navy veteran hat, asked if he could take our photo. Completely unexpected and not someone you might think would do that for us. The world never ceases to amaze me.
On any number of levels, a wonderful day with a great friend!
Did you see all of the comments on Cristy's post Friday? Wow! And so many really thoughtful comments. We are building a community here and that brings me such joy!!